The Blackstone 36-Inch Griddle With Air Fryer, you can do it all: bake, sear, roast, saute, and airfry. This one of a kind griddle makes cooking the simplest of meals that much more satisfying. The 756-square-inch cooking surface with independent cooking zones provides you with all the room you need.
The Blackstone 36-inch Pro Series Griddle Cooking Station with Hood is the perfect new addition to your home and patio. There's no reason not to share your love of griddling with this 756-square-inch cooking station. This quality 36-inch griddle comes with amazing features, like a built-in cabinet and drawers.
Get ready to enjoy the best tasting food you've ever cooked with the Blackstone ProSeries 28-Inch Griddle Cooking Station. This two-burner cooking station is exactly what you need to enjoy better tasting food and spend less time cooking it. With 519 square inches of cooking surface, it's ready to grill anywhere for anyone.
Keep this Blackstone Range Top Combo with Bonus Fryer handy for cookouts. It features five burners for even heat across the griddle and cooking multiple items at a time. The griddle top of this unit is suitable for pancakes, stir fry, steaks and much more.
As the cornerstone of Blackstone Products, our 36-Inch Griddle Cooking Station offers an expansive 36″ x 21″, 756 sq. in. cooking surface; easy assembly with a quick and easy ignition button; two cantilevered work surfaces and a bottom shelf .
Prepare to have a delicious feast with the Blackstone 28″ Griddle. Our griddle surface is made from cold rolled steel for an even and consistent heat. It features a spacious cooking area for preparing a wide variety of foods.
The Blackstone Adventure Ready 17-Inch Tabletop Griddle Combo with Side Burner Stovetop and Fryer is ready to take on your wildest cooking dreams. Perfect for those who want to take their cooking to the next level and add a little bit of spice to their typical routine.
The Blackstone Tailgater Combo Grill and Griddle helps you cook up delicious food no matter where you are. Use the cast iron grates in the grill box to char-grill fish, chicken, veggies and more. Cook with the griddle or direct burner to cook with saucepans or skillets.
The Blackstone Adventure Ready 22″ Griddle with Hood, Legs and Bulk Adapter Hose is an ideal cooking accessory. Use it to make outdoor grilled meals with ease. Included are legs, a hood and a bulk adapter hose.
Take the Blackstone 22 Inch Tabletop Griddle anywhere outdoors for big and versatile meals. Equipped with two independently controlled heat zones, you'll have full control of the 339 square inch plate for simultaneous low and high heat cooking.
The Blackstone 17 Inch Tabletop Griddle is perfect for on the go or for a small group. With this Adventure Ready unit, you can easily cook nine hamburgers, twelve eggs, or four steaks at a time; plus, so much more. The H-shaped burner distributes 12,000 BTUs.
Make cooking more convenient with the Blackstone 17″ Table Top Griddle. It is quick and easy to assemble and is highly portable. This Blackstone 17″ griddle is small enough to use right on a table or counter. It is also a handy tool to bring on a camping or hiking trip.
Everyone needs a good, durable griddle spatula. Introducing the Blackstone Signature Series Griddle Spatula. The Blackstone Signature Griddle Spatula is made of durable stainless steel, so you can griddle for a long time to come.
Everyone needs a good, durable griddle spatula. Introducing the Blackstone Signature Series Griddle Spatula (2-Pack). The Blackstone Signature Griddle Spatulas are made of durable stainless steel, so you can griddle for a long time to come.
Everyone needs a good, durable hamburger spatula. Introducing the Blackstone Signature Series Hamburger Spatula. The Blackstone Signature Hamburger Spatula is made of durable, stainless steel, so you can griddle for a long time to come.
The first thing you have to do before cooking a delicious meal on the griddle is make sure your griddle is clean. For easy griddle cleaning, the Blackstone Signature 5″ Griddle Scraper is the tool for you. The durable stainless steel blade is perfected for scraping and easily removes griddle debris.
The Blackstone Signature Fryer Serving Kit is the tool every fry chef (both novice and professional) need in their tool kit. It includes scraper tongs and a griddle/fryer scoop, both of which are made of rust-resistant, durable, stainless steel. The scraper tongs are perfect for easily gripping food and scraping away debris
The Blackstone Signature Heavy Duty Scraper is the griddle cleaning and scraping tool you've been looking for. This commercial grade griddle scraper with a splash guard can be used on both hot and cold surfaces, so you can scrape your griddle clean whenever you're ready.
The all-new Blackstone Adventure Ready 3 Piece Cooking Set will have you cooking anywhere in no time! With two griddle spatulas and one hamburger spatula, you're ready to griddle anything your heart desires. The two griddle spatulas are longer, and used together, are perfect for everything.
The Blackstone Adventure Ready 2 Piece Cooking Set will get you cooking anywhere in no time! With one set of tongs and one hamburger spatula, you're ready to griddle anything your heart desires. Made of stainless steel, these spatulas are built to last. Unique to the Adventure Ready Cooking Set is the collapsible handle.
Make sure that you have a clean cooking surface before your cookout with the Blackstone 3-in-1 Griddle Cleaning Tool. It has three different methods for removing grease, stuck-on food and other kinds of build-up. There's an abrasive brick on one side for heavy-duty jobs as well as a griddle scouring pad on the other.
Make the worst part of cooking the easiest with the Blackstone Grease Cup Liners. Our patented rear grease griddles make it easy to manage the grease, but our liners make it simple with little to no mess. Place the liner in the grease cup before you start cooking
The Blackstone Tool Holder Combo is what every griddle user needs in their life to keep their griddle space and tools organized. This Tool Holder Combo comes with 1 griddle tool rack and 3 magnetic hooks. Use the magnetic tool hooks to hang your tools.
Serving tacos just got better with the Blackstone Taco Rack. Upgrade taco night with this convenient stainless steel taco rack. No more trying to hold your shell up to put everything inside! Keep up to six tacos standing ready to build and eat.
The Blackstone Griddle Basting Cover is made of lightweight stainless-steel and is equipped with a heat resistant handle. Ideal for melting cheese on a juicy hamburger, steaming fresh vegetables, or even just used to keep food warm. Dishwasher Safe.
Steam and melt your heart away with the Blackstone Signature 12-Inch Round Basting Cover. This Basting Dome is the perfect griddle accessory for all your grilling and griddling needs. This 12-inch dome is great for cooking for small groups or a couple people at a time.
This Blackstone Signature Extra Large Basting Cover is the perfect griddle accessory for all your grilling and griddling needs. The new, extra large cover design is ideal for cooking for large groups of people, or even just a lot of food for a couple of people.
Blackstone Egg Rings are a surefire way to make your egg and sausage breakfast sandwiches look as though they were prepared by a real chef at a café. The Egg Ring Bundle comes with 8 egg rings: 4 circle, and 4 square. Use the egg rings as a form for sausage patties, omelets, crab cakes, pancakes, and more!
When butter is still cold, spreading it is a chore. And attempting to melt butter on bread in the oven is inconvenient and it's easy to burn one side while the other is still cooking. Spreading butter has never been easier with the Blackstone Butter Roller. With this griddle accessory, you will be the butter spreading champ
Step up your griddling and grilling game with the Blackstone Signature Griddle Press. Your sandwiches and burgers never looked (or tasted) so good. The Blackstone Signature Griddle Press is crafted with heavy-gauge cast iron – perfect for giving that burger the extra something it's been missing.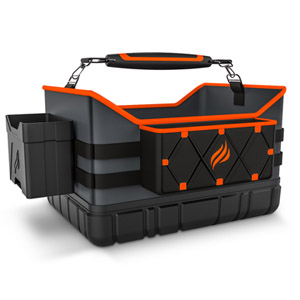 Cook and Carry Griddle Caddy
The Blackstone Griddle Caddy is the ideal griddle tool carrying accessory with features galore. This Griddle Caddy features a removable handle for your convenience. Take the handle off or put it back on depending on whether you're staying or going. The roomy caddy interior is sure to fit everything you need
Protect your hands from exposure to heat while cooking with these Blackstone Griddle Silicone Gloves. They are flexible to allow for full dexterity. They are designed to be durable, standing up to temperatures as high as 500 degrees. The material also protects against splash back from grease.
Use the Blackstone 8-Piece Cleaning Kit to keep your Blackstone Griddle or grill in pristine condition and help it last for the years to come. Scrub and scrape away dirt and grime from your griddle or grill with these quality Blackstone tools that can be used on both hot and cold surfaces.
Are you tired of having to constantly buy one-pound propane tanks for your tabletop griddle? With Blackstone's 3-foot Bulk Tank Adapter Hose, you'll be able to use a bulk propane tank on griddles that primarily use a smaller, one-pound tank.
Make crepes like you're in France, but in the American fashion. With the Blackstone Crepe Kit you can impress your family and friends with deliciously perfect crepes made on your Blackstone Griddle. Top them with your favorite fruit topping and some powder sugar.
There are lots of Blackstone accessories on Amazon for all your griddle needs. Check out what Amazon has to offer.
Breakfast is the most important meal of the day, so put the best seasoning on it with Blackstone Breakfast Blend! This light and flavorful blend of herbs and spices is sure to catch the sunny side of any breakfast (or any meal). The Breakfast Blend is perfect for adding that something extra
If you're looking for a spice that's going to add authentic Latin sizzle to your favorite dishes, look no further than the Blackstone Taco & Fajita Seasoning. The Blackstone Taco & Fajita Seasoning will transport you to a Latin flavor paradise. This seasoning is brought to life with a flavor.
Take your steaks to another level of flavor that can compete with any steakhouse. Capture that classic western taste with Blackstone Steakhouse Classic Seasoning. This seasoning will have you turning your home into a steakhouse. The most important part of a steak is its flavor,
A spice true to its name! Blackstone Crazy Cajun Seasoning will smack your taste buds with a bold rich bayou flavor, with a well-balanced kick of heat. This seasoning packs a punch with its distinct Louisiana flavor, reminiscent of the bayou. With Blackstone Crazy Cajun seasoning's perfect balance of heat and flavor
Blackstone Chicken & Herb seasoning is a classic blend of herbs and spices, guaranteed to improve the flavor of any and all of your favorite recipes! Don't be deceived by the title – this seasoning is a perfect addition for much more than chicken. Opening this bottle will open up a whole world of possibilities.